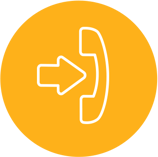 "How do I put your recordings into my phone?" If you've asked this question, you're not alone. In fact, this is one of the most frequently asked questions we receive. So, we wanted to take this opportunity to explain. No technical jargon. No IT degree required...just a simple breakdown of how it works.
Whether you want to put our recordings into your fancy office phone system or into your cell phone, we offer a few easy options for you to select from.
Audio File:
If your system has the capability to receive an audio file, we can provide our recordings in a number of different formats. You let us know what format is compatible with your system, and we'll deliver the appropriate file. You can then upload the file to your system or have whomever manages your phone system upload it, and you're done. It's as simple as that.
Speaker Recording:
If you are unable to or uncomfortable providing us with your phone system password, it's no problem You can still put our recording into your phone manually. We will email you the audio file. You then login to your system and hold your phone up to your computer's speakers. Play the audio file on your computer and record it directly into your phone that way. With this method, the clarity of the recording may be compromised depending on the quality of your speakers, phone and the presence of background noise.
Audio Tap Devices*:
Another available option, is to purchase a Telephone Handset Audio Tap Device. These devices are often used by radio stations and telephone companies, and they allow you to transfer audio files into your phone. Most of these devices do not work with cell phones, cordless phones, or any telephone with a keypad in the handset.
If you are interested in purchasing one of these devices, we recommend you check out:
If you have any any further questions on how our recordings work, or which of the above methods would be best for your system, please don't hesitate to contact us.
*Please Note: Snap Recordings is not responsible for the quality of your recording through an Audio Tap Device or the compatibility of these devices with your phone system. Please research your purchase of this device carefully to ensure that it will work with your system.