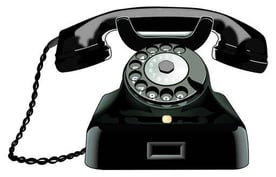 The "Sounds of Silence" was one of the great songs of the 20th century, but silence to a caller on hold is usually a deal killer. Not only does it make the caller feel abandoned, you can miss a golden opportunity to communicate your brand message.
Your callers have already expressed interest in your company just by dialing your number. Now, it's up to you to let them know they've made a wise choice. Here are five pointers on what to include in your on-hold message that will help convert a caller into a buyer.
Tell Them Something New
Regular customers are the lifeblood of most businesses, but you can't take them for granted. You have to always be contributing something new and fresh if you're going to keep them engaged. If your company has a new product or service, or if you're running a promotion, make the announcement through your phone systems on hold feature.
Play to Your Strengths
While your callers are holding, share with them what separates your products and services from your competition. For instance, a doctor's office could say, "All our physicians are board certified in their specialties and average at least ten years of experience." Or a pizza place can say, "We've always thought we make the best pizza, but we're thrilled to know you agree: We just won our third straight Best in the City Award!"
Remember, if you're good at something, don't be shy about it!
Pave the Way for an Up-Sell
There's an old saying: The number one reason people donate to charity is because they are asked. The same is true for your customers. They can't ask for products or services they don't know about.
While your customers are on hold, make sure you educate them about the full spectrum of products and services you offer. Consider this classic example: Most states require residents to have minimum car insurance policies. If you call most car insurance companies, the smart ones take the chance to offer other insurance types as well. Almost always, your customers will appreciate learning about all that you have to offer.
Use Variety
There's a fine line between presenting a caller with useful information and burying them with an avalanche of sales pitches before they've talked to a live person. If you have multiple items of information you want to convey in your on-hold message, think about alternating these items with pleasant, appropriate music. This allows the caller to pause and digest what they've just heard and consider whether they're interested. Alternating what they hear can also make the on-hold experience seem shorter than it actually is.
Set the Customer Service Tone
There's another tried and true saying: You never get a second chance to make a first impression. If a caller's first experience with your firm is being put on hold, provide them with a quality experience. Show that you care from the first minute. That starts with writing a quality script. If you don't have a good writer on staff, hire one. And don't spoil a quality script with poor presentation. Use professional voice talent to present a polished image.
If you're ready to ramp up your on-hold message to improve your company's image, leverage a valuable marketing opportunity, and effectively communicate with your customers, contact Snap Recordings today. We have professional voice recording packages for your telephone system with prices starting at $50.00.