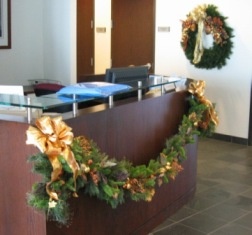 That hectic time between Thanksgiving and New Year's can be challenging for businesses that are scrambling to spread the word about holiday promotions while also trying to juggle celebrations, employee schedules, and keeping customers happy. Too often, little details get forgotten somewhere between managing payroll and decking the halls with boughs of holly.
Keeping it business as usual during the holiday season requires some strategic planning and a few updates to your phone system to support your marketing efforts and streamline your communications. With the festivities nearly here, these helpful tips can help you align your phone system during this busy time of the year.Create a Holiday Greeting
Call volumes typically increase during the holidays, and the reality is that you might not always be possible to answer every call this time of the year. This makes it the ideal time to create a customized, professional message that callers can hear before you take their call. Offering a holiday greeting can be a prime opportunity to express your gratitude to your customers while also putting them in a festive mood.
Promote Seasonal Specials
Are you offering any holiday promotions, discounts, or sales this season? If so, your phone message can become one of your biggest marketing tools. A clear, concise on-hold message detailing what you have to offer can pique the interest of your callers while they're waiting to speak to you.
Play Holiday Tunes
Do you play music on-hold for your customers? Instead of tuning in to your local FM station, why not play holiday favorites that can also set the stage for promoting your seasonal specials.
Use Call Forwarding
When you're attending holiday lunches and shopping for gifts, your customers might still be trying to call you. This is when the call forwarding feature on your phone system can come in particularly handy. It's ok to get away for a few extra hours during the holidays, but make sure that your calls are forwarded so that customers can still reach you or your holiday message.
Provide a Holiday Schedule Message
Are you offering extended hours during the holidays? Or, will your office be closed the days leading up to Christmas or New Year's Day. Your customers need to know! Create an informative voicemail message to keep them up to date about your holiday schedule. They'll appreciate the information, and it will cut down on the number of questions you're fielding from them about your business's availability.
Contact Snap Recordings today to get your phone system ready for the holidays. With pricing for customized, professional phone recording packages starting at $50.00, it's an ideal solution for transforming your phone system into a highly effective marketing and customer service tool through the holidays and beyond!