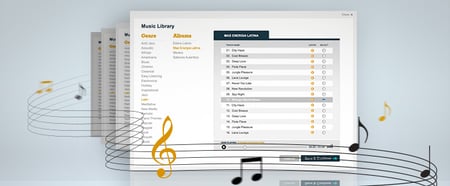 Oh, snap! Our music library is bursting with tunes! Snap Recordings is happy to announce our new and improved music library. To celebrate, we have a great promotion just for you!From classical to reggae and meditative to electro — Snap features an extensive selection of music for you to choose from. Why bore or frustrate your existing and potential clients with redundant elevator music, when your customers can enjoy quality up-to-date music custom to your company's brand and audience. Whether you're a gym and want to feature upbeat pop tracks or a wellness physician who wants to soothe their customers' ears with inspiring and meditative music — Snap has a wide variety to choose from.
Just as it's important to select a voice that complements your business, music used on your phone system should also effectively reflect your brand. When selecting your music — consider your industry, your callers' preferences, and the image that you're trying to project. Taking all three of these components into consideration will help guide you to the best choice that will keep your customers engaged until you're able to speak with them.
To celebrate our extensive new music library, Snap is offering a hot deal that is music to your ears! Purchase any professional voice recording for your business at 15% off! Plus, we'll throw in a free holiday message on-hold pack ($400 value) featuring three different holiday greetings and music. Whether you want to wish your customers a Merry Christmas, Happy Hanukkah or Happy Holidays — you will have three festive greetings to feature.
Simply, order any voice recording and enter promo code "SNAPHOLIDAY" at checkout. This offer is valid for only one purchase and will expire on Dec. 15, 2012. Click here to get started with your professional telephone voice recordings.