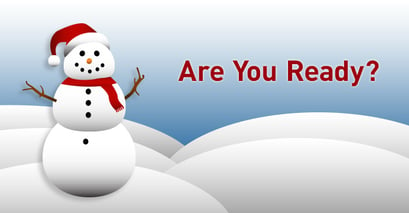 Is your business phone ready for the holidays with holiday telephone greetings and on-hold holiday music and messaging?
Thanksgiving came-and-went and now it's time to prepare your business telephone system for the holidays. With the busy holiday season generating an abundance of traffic, it is vital that your business' telephone lines are ready for the holiday rush.The holidays can be a tumultuous and stressful time of the year for many shoppers. With streets and shopping malls flooded with traffic and online orders being much less than perfect, you want to make the most of your existing and potential customers' shopping experience by having your phone ready to ease customers' needs.
Aligning your phone system with a smart strategy during this lucrative time of year will give you more time to focus on your customers, employees, and all the many holiday celebrations. Below are some helpful tips to help you prepare your business phone for the holidays with seasonal greetings, festive on-hold music and custom holiday marketing messages. Follow the steps below and coast your way through the holidays.
CREATE A PROFESSIONALLY RECORDED HOLIDAY TELEPHONE GREETING
The holiday season is the busiest time of the year where your business will expect high call volumes. Keep your customers at bay with a professionally recorded holiday greeting. Don't bother with second-rate home recordings that may come off muffled and give your company's voice an unprofessional image—you want to implement a studio-recorded telephone greeting that callers can comfortably hear before you take their call. Providing a friendly holiday greeting can be a prime opportunity to express your gratitude to your customers while also putting them in a warm and festive mood. Remember, you want to KEEP customers while they're on-hold, not frustrate them to the point of hanging-up.
PROMOTE HOLIDAY SPECIALS THROUGH CUSTOM ON-HOLD MESSAGING
What better way to take advantage of on-hold time than to promote special promotions and up-coming sales your business may have lined up. During this bustling holiday season, a customer can be on-hold for a long duration—setting up a custom on-hold message that features your current holiday promotions can work in your favor and increase sales. It's a very powerful marketing tool that has proven success.
SELECT FESTIVE ON-HOLD HOLIDAY MUSIC
As Andy Williams sung, "It's the most wonderful time of the year." Choosing a fun and warm rotation of holiday songs your customers can listen to while they wait to speak with you promotes a sense of happiness. Combine this feature with custom on-hold messaging promoting your seasonal specials and you'll be well on your way to new sales.
PROVIDE A HOLIDAY OUT-OF-OFFICE AND SPECIAL HOURS MESSAGE
Don't leave your customers in the dark and wondering when you'll be open for business again. Create a professionally recorded holiday message that specifies any day your business may be closed or if you're offering any extended holiday hours. Keeping customers up-to-date with your holiday schedule is a valuable courtesy that they will greatly appreciate and it will cut down on the number of questions you're fielding from them about your business' availability.
USE CALL FORWARDING
With so many holiday parties and the many business and personal preparations that come along with this time of year, you're not always going to be available to take calls. Dependent on the size of your business you may want to forward your calls to an available line while you're away from your desk or storefront.
Don't wait until the final minute to get your phone system holiday ready. The last thing you want is a sloppy last-minute rush to get the schedules modified and the recordings made. Snap Recordings is offering a special holiday promo just for you. You can purchase any professional voice recording for your business at 15% off! As an added value, we'll throw in a free holiday message on-hold pack ($400 value) featuring three different holiday greetings and music.
Just order any voice recording and enter promo code "SNAPHOLIDAY" at checkout. This offer is valid for only one purchase and will expire on Dec. 15, 2012. Click here to get started with your professional holiday telephone voice recordings.