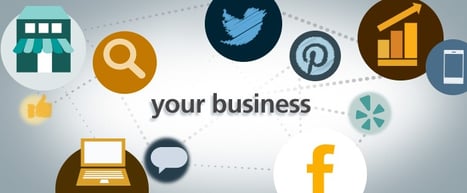 So you have an incredible business idea, you get the courage to implement your idea and thus start-up your first small business — but how do you market your product or service without breaking the budget? It's not always an easy task to figure affordable ways to advertise your new business, but with the broad spectrum of the Internet, you now can market your small business with little to no cost.At Snap Recordings, we understand what it takes to get your small business off the ground and flying into the heads of prospective clients. We're all in this together and we want your small business to succeed. Below are five ways to market your small business on a budget.
BECOME A VOICE IN YOUR INDUSTRY
What better way to build your online presence and start executing a content marketing strategy in your industry than by having a company blog and connecting via social media. People are constantly searching the Internet for content and helpful tips to help them succeed in their industry. Whether your small business is a broad industry vertical such as Website design, or as niche as vegan bakery treats — become an expert in your field and start updating and creating blog posts about things relevant to your industry. Additionally, through building social media profiles on Twitter, Facebook, YouTube and more — you can connect with those similar to you and form a solid network of cross-promoting. Not to mention, the information you create and share can give you an enormous amount of credibility in your field.
LIST YOUR COMPANY IN ONLINE BUSINESS DIRECTORIES
This is an extremely helpful and usually FREE marketing tool that every small business needs to put to action. Oddly enough, listing your company in various online business directories is a common blunder that most new businesses seem to overlook. When someone searches your industry, or better yet, hears about your brand and decide to search you on the Internet, you want to make sure you're listed properly and plentifully.
A few business directories you want to make sure you're placed on are as followed: Google Places, Yahoo! Local, Bing Local, Yelp, Angie's List, City Search, Merchant Circle and many more. Be sure to create accurate entries with direct links to your Website, phone number, social media profiles and blog (if applicable). If the site already has your business listed, don't just move-on to the next. Make sure you're represented the way your small business should be. You should claim your business by adding more details to the existing entry and making sure you company profile/about section is consistent with other online placements. This all takes time, but in the end it's worth all the organic search mentions and strengthening your business' online presence.
CULTIVATE TWITTERS WITH CLOUT
There's no better way to receive an endorsement that comes from a source outside of your company, than from a trusted blogger or Twitter account who has a lot of clout. It brings your brand greater value and reach than anything you can send through more traditional channels. Their stamp of credibility and large following can help your small business go viral in the ever-growing and strong Twittersphere. Although you can't control what the online social world says about your brand, you can influence their decisions by getting on these powerful brand ambassadors' good side. You want their social clout to work in your benefit so start finding, following and interacting with them. Don't underestimate, you never know what high-profile Twitter account may take a liking to your product/service and/or content. This is the kind of publicity that no paid advertising strategy can compare.
RUN A CONTEST OR GIVEAWAY
Everyone loves free stuff and what better way to inform potential customers about your company than with a giveaway. Not only will this please the winner(s), but if done correctly and done well, a contest can greatly boost your social media mentions. When creating a promotional giveaway for existing and potential fans/customers of your small business, you want to get the most reach as possible to promote your campaign. Create a blog post or Website landing page that gives all the details of your contest: how to enter, eligibility, deadline, rules, etc., and be sure to use keywords that will boost your search. Promote your contest via various social media channels: Facebook, Twitter, Instagram, YouTube, Pinterest, etc. — whatever profiles you have set up, use them to promote your contest.
Create a Facebook ad to run during the duration of your promotion. Be sure to target it towards those that would benefit from what your small business is giving away, and also make sure your ad directly links to a custom Facebook tab or an outside URL that provides all contest details. To grasp an even larger audience, partner with a similar company or two. You can each run your individual giveaways and trade to include each others' products/services in your respective giveaways. This is a great way to add more value and cross-promotion to your initial contest.
INTERACT ON BLOGS AND FORUMS
Aside from posting your own blog content, try guest blogging on other high-traffic blogs that would benefit your small business. Provide them with a blog post of pertinent information that will be of value to their readers while slightly tying in your brand. The trackback and online credit to your small business alone can work wonders for your Website traffic. Additionally, start reading other like-minded blogs and create discussion through leaving comments with your small business' name, URL and/or a trackback to a blog post of yours their readers may find helpful. Just be sure to not make your comment look like SPAM, otherwise your comment will not be approved. You can also search the Internet for popular forums and online communities that are relative to your brand. Don't be shy! Join in on all applicable discussions and be sure to provide your small businesses' information in your custom signature.
Snap Recordings wants your input! Do you have other ideas and strategies that have helped your small business grow? Please share them in a comment below. You can also visit us at SnapRecordings.com to help you brand your company's voice with the credibility it deserves with professional voice recordings.