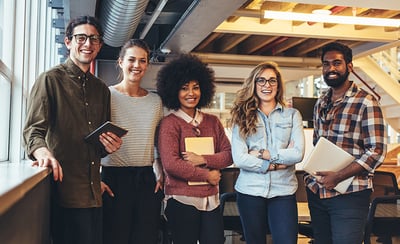 Nowadays, small businesses are held to a higher standard and expected to be on a level playing field with larger corporations. This is in every sense of the word: with their communications, transactions and quality of product/service.
As a small business, you have the advantage for more personalized customer service and quicker turnaround on decisions, so make sure you use that.
But at the end of the day, making your business appear larger can be beneficial. In terms of actually implementing this, here are a few things you can do that aren't excessive, nor do they take tons of money or time:


#1:

UPDATE YOUR PHONE SYSTEM
Having a phone continually ring for a customer can give the message that their call isn't important or a priority for you. And with the bustle of small business life, you may not always be available to get that message with a stationary phone.
This is why having a sophisticated phone system is important. It's a surefire way to make your business look and feel bigger. With the developments in VoIP business phone systems and unified communications, you can utilize features such as auto attendant to route your callers efficiently and professionally.
This is also cost-effective; as it eliminates hardware and IT upgrades, since all updates are conducted over the Internet.


#2:

UPGRADE YOUR WEBSITE
The presentation of a website can make a huge impression on a visitor. This is often the first touch someone has with your business – so it's important to make it count. If the design and user path is shoddy or outdated, this can reinforce the idea that you're small and inexperienced.
Even if you don't have the resources to hire someone to create a website, there are many free sites that offer clean and professional templates that aren't extremely expensive to host. Try looking at Squarespace or WordPress for starters.


#3:

LIST YOUR ASSOCIATIONS
Joining your local Chamber of Commerce, or even displaying the fact that you accept PayPal or encrypt user data can go a long way for customers and give them the reassurance they need to buy. Trust is very important for customers; it can make or break their decision as to whether they buy from you or not.
That's why displaying certifications, awards or anything from the better business bureau can provide social proof and add to your business's credibility and image.


#4:

CONSISTENT SERVICE
Making sure everyone internally operates the same way provides a consistent customer experience that you're able to examine and augment over time. Whether you use a productivity board like Trello or a project management software, having a grip on what the left and right hand is doing gives outsiders the feeling that you're organized.
Don't overlook this, as it can impact your company from the inside out, and may not be readily apparent at first.


#5:

USE VISUAL AIDS
Video is essential to connecting and engaging with your customers on a personal level. If they're able to feel you out as a collective company by seeing you, this can appeal to their emotions ;and make you more relatable.
This also establishes a good impression that you're stable enough to present professional services in an actionable way. You can translate this to your website, too – avoiding "stock-y" looking images and instead using staff photos makes you simultaneously more personable and professional.
These aren't the only ways you can make your business appear bigger, but they're great places to start. That said, implementing technology into your business can give you the leg up to compete at the same level (if not above) of other, bigger companies. Let us know how you've leveled the playing field in the comments below!