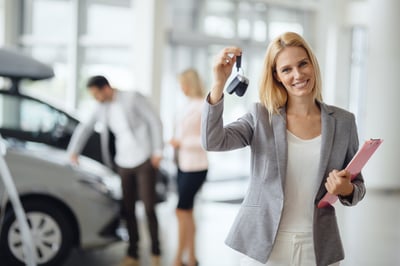 When it comes to promoting your automotive dealership or repair shop, you don't have to spend a lot of money to make a large impact.
Without further ado, here are some cheap advertising ideas to help you build your business and grow your brand.
#1:
OPTIMIZE YOUR ONLINE PRESENCE
In the past, automotive shops got by with lackluster websites and bare bones social media pages, but times have changed. Today's consumers expect a polished online presence. In fact, a recent survey found that sixty percent of customers would like to see local auto repair shops improve their websites. But it's not just about the appearance. Online scheduling tools, customer portals, make sites more appealing to consumers. Using strategic keywords will help with SEO, and creating a dynamic social media presence is a great way to engage with current customers and boost your brand. Fortunately, there are lots of cheap (or free) tools that can help you achieve these goals without breaking the bank.


#2:
LEVERAGE YOUR EXISTING TECHNOLOGY
There is a good chance your auto shop or dealership is already running promotions and offering service specials, but those campaigns won't give you the returns you are looking for unless people are aware of them. Print materials can be costly, and don't offer lots of flexibility. Using the technology you already have, like your phone system, is a cost-effective way to advertise your automotive business. Many car dealerships and auto shops are finding that custom on hold messages allow them to educate their customers about current programs while they wait, and they offer the added benefit of keeping callers on the line longer.


#3:
GET NOTICED
While key chains and coffee mugs are nice, they don't offer the best advertising impact. Prioritize your marketing budget on license plate holders, air fresheners, sunshades, and other promotional products that will give your body shop or automotive dealership added exposure. Be sure to select quality items people will actually want to use.
#4:
CREATE A LOCAL PRESENCE
Is your brand recognized in the community? Whether you are a new dealership or a seasoned service center, connecting with the community is the key to growing your business. Sponsor local sports teams, participate in fundraisers, and join your local chamber of commerce. Your active involvement in local events will pay off in increased brand recognition, and you may even be able to take advantage of a few tax write-offs.


#5:
REWARD REFERRALS & REVIEWS
Consumers are often skeptical when it comes to trusting the automotive industry. When they buy, they wonder if they are getting a fair deal. When they bring their vehicle in for service, they wonder if they are paying for unnecessary repairs. So, a referral from a family member or friend can go a long way in creating consumer confidence. Whether you hand out gift cards, give service credit, or hold a monthly drawing, when you reward your happy customers for referrals you're bound to create more happy customers. 94% percent of millennial car buyers gather information online, so be sure to advertise your referral program on your social media channels for maximum impact.
#6: BECOME AN INDUSTRY THOUGHT LEADER
Before people look for a repair shop, they often research the problem online. They may ask…What is that knocking sound under the hood? How long can I go between oil changes? What vehicles offer the best gas mileage? When you provide the valuable information that people need, in time they will look to you as an expert in your field. There are many platforms that can help you achieve 'thought leader' status…Start a blog, send out a monthly newsletter, host a podcast, and update your on hold message to offer seasonal tips and helpful information.
When it comes to automotive advertising flashy commercials and graphic newspaper ads are a thing of the past. If you really want to promote your auto dealership or shop, establishing long term strategies and creating a dynamic presence online, over the phone and in the community is the most effective and affordable way to boost your brand.