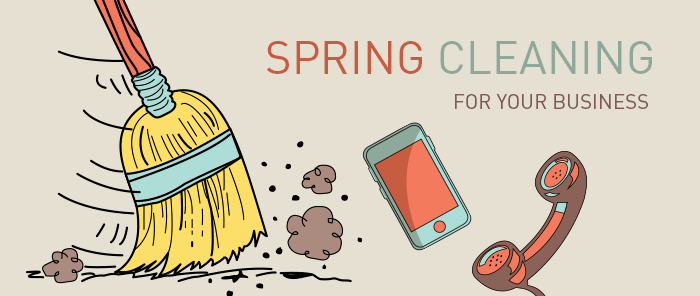 The weather is finally warming up and the flowers are in bloom. With spring officially here, it's the perfect time for some spring cleaning. Sure, a little cleanup is great around the house, but could your business use some sprucing up too?
It may be time to clean house so to speak when it comes to advertising efforts that aren't creating ROI. Perhaps, you've been putting off refreshing your social media channels? Do you simply need to catch up on articles that you've bookmarked? Sometimes, blocking off a little extra time for catching up on administrative and marketing efforts can breathe new life into your business.
In honor of the season, here are seven strategies for de-cluttering and revamping your business to help your business bloom this season:
1.

GET YOUR LIST IN ORDER
If you do any type of email marketing, you don't want to neglect this list. Take some time to delete duplicate addresses, add new ones, and remove those that you have attempted to send messages to but have bounced back.
2.

CREATE A LIST OF PASSWORDS
If you're like most, you probably are using at least five different passwords, and some of these might be just kept in your head! Create a spreadsheet or even just a Word doc that lists the passwords you use and save yourself loads of time having to hunt for credentials every time you want to login somewhere. Remember -- time is money!
3.

OBTAIN FEEDBACK FROM CUSTOMERS
Customer testimonials can be a powerful tool for any business. They can be used within website content, shared on review sites and social media channels, and integrated into print marketing collateral. Spend a few minutes to send out requests to your loyal customers to get some positive feedback.
4.

EVALUATE YOUR ONLINE REPUTATION
Along with soliciting positive feedback, you periodically need to review what comments are being said about you online. Google your name and that of your business to find out. If there are negative comments, it's a good idea to tackle them head on. If possible, try and contact the individual who has posted the comment and see if you can rectify the situation that prompted the comment. By being proactive and addressing it, you have a great shot of turning an unhappy customer into a brand advocate.
5.

REVIEW YOUR WEBSITE
Check your site's stats and functionality. Make sure that there are no typos or grammatical errors and double check to see that all links and tools are working as they should be.
6.

PLAN YOUR CONTENT
Google is more concerned with content than ever. Businesses that publish lots of content (blog posts, press releases, articles, videos, etc.) are being rewarded with better ranking in search results. Those that have stagnant sites and no social media presence are losing ground quickly. If you haven't already, create a content plan for your business that spells out what you want to share with your online communities and how you will go about producing and publishing it.
7.

UPDATE YOUR PHONE RECORDINGS
Surprisingly, even large companies neglect this one very obvious brand element. How your business sounds when customers call can have a big effect on how it is perceived. Shouldn't your callers be impressed by a professional voice instead of irritated by a hard to understand message or scratchy FM radio played during hold time? This is an easy, inexpensive fix that can have a big, positive impact.