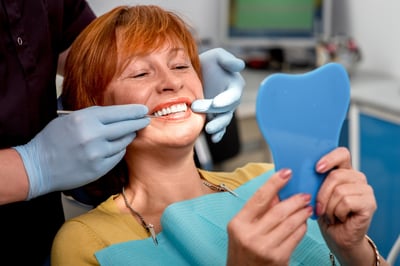 Henry David Thoreau wrote, "It's not what you look at that matters, it's what you see."
When it comes to marketing your dental practice, it's not only what you offer that matters, but how patients perceive your offering. So, what impression is your dental practice giving off? Is your dental office missing opportunities to enhance the care you provide? Not to worry!
Here are 7 easy-to-implement ideas that will elevate the patient experience and have a powerful impact on how patients view your dental practice.


#1:
UNDERSTAND EXPECTATIONS
As a dentist your primary concern is your patients' dental health. As you know, they don't always share those same priorities. Understanding their goals and concerns is an important part of managing their expectations and creating a positive patient experience. Take time annually to discuss smile goals vs. overall oral health goals with each of your patients. This will allow you to more fully tailor your care to their needs, and anticipate what add-on or cosmetic services they may be interested in without coming across as 'salesy.'


#2:
SET THE TONE
Once you understand your patients' expectations, you can better anticipate their needs on a practice-level. If your practice is primarily focused on family dentistry, design a fun and kid-friendly waiting area. If a large percentage of patients are interested in cosmetic dentistry, identity ways you can create more of a spa-like atmosphere or provide the type of pampering that would appeal them. If you're not sure where to start, why not ask in a survey?


#3:
MAKE A FIRST IMPRESSION
According to Dr. Tanya Brown of The Center for Cosmetic & Restorative Dentistry, making a great first impression is critical to creating the ultimate new dental patient experience. While the appearance of your entryway, the friendliness of your staff and the comfort of your waiting room all contribute to how your practice is perceived, the first impression often comes long before someone arrives for dental care. "From their initial phone call until they physically step foot in your office, the patients' experience is critical to their impression of you and your dental team. Their experience sets the stage for their relationship with you and your team, for the treatment they will complete in your office, as well as who they will refer to you." Don't miss the opportunity to make a lasting impression during the first phone call. In fact, your phone system can act as a powerful marketing tool that creates a strong brand image and helps set the tone for a positive patient experience.


#4:
GIVE A TOUR
The difference between a good dining experience and an excellent dining experience is in the details. As a diner, those little 'extras', like a complimentary appetizer or chef visit to the table, can go a long way in making you feel valued as restaurant patron, and they are often the reason we recommend establishments to friends. Whether we like it or not, healthcare is moving towards a similar service model. Those added attempts you make to create a lasting impression can go a long way in helping you retain patients and generate referrals. Something as simple as a quick office tour can greatly elevate the patient experience, making newcomers feel more welcome and less apprehensive about their dental visit.


#5:
TAKE TIME TO EDUCATE
Do you have the latest tech in digital X-rays, intraoral cameras, or CEREC restorations? Wouldn't it be great if your patients knew how they worked? Patients are enthusiastic about technology. In fact, research shows that a higher percentage of consumers reported new technology as 'exciting' compared with providers. Offer patients information on the technology you are using, either online or in your office. You can also use the time patients are waiting on hold to educate them on the latest advancements in dentistry and how your technology allows you to provide a wide array of cosmetic and restorative dental services. You've invested money into your dental care technology; so make it work for you!


#6:
UNIFY YOUR TEAM
Patients like to see friendly, familiar faces when they come in for dental care, and your staff are essential to establishing a quality brand image and ensuring successful patient interactions. From assembling a cohesive team that works well together to supporting and rewarding your employees, creating a positive employee experience sets the stage for a positive patient experience.


#7:
STREAMLINE THE PROCESS
You may have provided a quality dental cleaning, but ensuring a hassle-free experience is the key to ensuring your patients walk out the door with a smile on their face. When you provide patients with information upfront you help streamline the process and inform them of what they can expect at their dental appointment. Should patients bring their ID and insurance card to the first visit? Are new patient forms available on your website? Make sure your receptionist goes over these key points when they schedule an appointment. You can also put your phone system to work for you, and educate patients on your office policies, accepted insurance, and other important information while they are on-hold.
For more information on how you can use your existing phone system to help improve the dental patient experience, click on the button below: