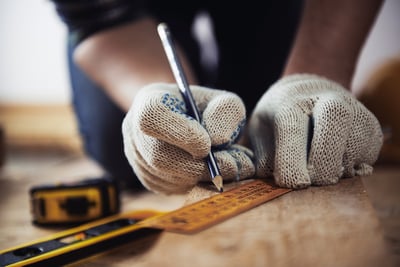 Gone are the days when independent contractors are routinely booked a solid 6 months out. Not only is the market saturated with contractors and home remodeling businesses, but when homeowners finally decide to make a move on their remodeling projects, they expect them to be done ASAP. Managing this type of business flow can be tricky for small businesses because it requires a steady stream of projects in order to keep your profits rolling in. In addition, your long, laborious days on-site can leave little time for your marketing efforts. In fact, 47% of small business owners handle marketing efforts on their own. So, simple, affordable strategies are key. Fortunately, successful marketing isn't about working harder it's about working smarter. Here are some affordable and effective marketing strategies to help boost your home remodeling business...


#1:
FOCUS YOUR EFFORTS
Whether you are zeroing in on promising zip codes or concentrating on a kitchen remodeling, focusing your efforts on a single market allows you to have a maximum impact, and better track your results. For location, specific focus explore local advertising options, post yard signs during and after your projects in target neighborhoods, and sponsor a local little league team. For service-centric marketing, create content that positions your company as the expert in basement remodels, additions, bathroom renovations, or whatever particular project is your forte.


#2:
DIVERSIFY YOUR MARKETING CHANNELS
While your message is sharply focused, your marketing should be varied. This is what differentiates a targeting marketing campaign from an individual ad. Plus, it will give you an edge over the competition. In fact, 50% of small business owners use 2 or fewer software platforms and applications in their marketing. Utilize familiar channels, like your website, Facebook, and Twitter, but don't stop there. Pinterest is a lucrative platform for home remodeling businesses, and custom on-hold messages offer a highly affordable way to engage prospective clients.


#3:
DON'T UNDERESTIMATE VISUAL CONTENT
People respond strongly to visuals, especially when it comes to remodeling and home renovation. In fact, there are several TV networks like HGTV and the DIY Network, that focus solely on this type of content. Why? Because people love it! At the very least, you should be blogging about your current projects, with eye-catching photos that illustrate the process from start to finish. However, if you really want to capture attention and boost your business, short videos are key. Create a YouTube Channel with timelapse videos of your remodeling projects, or share professional tips for homeowners who are tackling their own home remodeling. Keep the videos fun, informative, and short (usually 2-3 minutes.) Quality content not only captures attention, but it builds credibility and positions you as an expert in your field…and who wouldn't want to work with the expert?


#4:
CROSS-MARKET TO PAST CLIENTS
If you are working on bringing in new business and haven't tapped into your client database as a resource, you are missing out! While past-clients may not be ready to tackle their next home project, they likely know someone who is. Whether you mail out postcards with a great referral incentive or send them one of your compelling DIY videos (like: how to change out an old light fixture or painting tips for tight spaces), you want to remain visible without overwhelming them with unwanted correspondence. You can also use your phone system and on-hold messages to cross-promote your services. So, be sure to have it set up before those calls start rolling in!