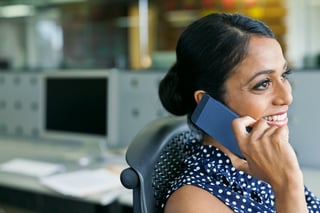 From customer service improvements to an improved chance of return business, IVR can give businesses a real leg up in the field. If you don't already have one of these systems in place, here are 10 good reasons to put one in.
1. Better customer experience. An IVR makes sure no customer hears nothing but a ringing phone. An IVR can also help move customers quickly to the most relevant person to answer any questions.
2. Options presented clearly. An IVR system makes options very clear using voice prompts. When there are problems that don't fit the mold of available options, there's always the "talk to a real person" option to help clear things up.
3. No more connection errors. A receptionist transferring calls can accidentally transfer these to the wrong department, frustrating callers. With an IVR, customers place their own transfers.
4. Faster processing. Instead of having an employee try to figure out what it is the customer wants, the customer can instead engage in a process of elimination to find the closest thing available.
5. More inbound calls. Instead of having just enough call capacity to take care of a few callers, all calls hit the IVR at the same time. Customers then begin the process of connecting to the appropriate department, which gives employees more time to resolve calls.
6. Improved costs. Greater efficiency -- and the ability to handle inbound calls -- from an automated system means the same number of employees can handle more calls.
7. Non-stop availability. A customer can enter the IVR system at any time of the day or night. Even if the end result is "leave a message," the customer still gets something accomplished. That improves the customer's perception of the process and the chance of return business.
8. Brand connection. A company using an IVR can customize the system according to its own offerings and what the customer needs. That gives customers a better perception of the brand as a whole and lets the company build a reputation for customer focus.
9. Better mobile connection. The efficiency gains of an IVR allow mobile customers—who may have limited time to talk—to proceed more rapidly to a solution. That better accommodates mobile users and improves the chance of return.
10. Free up employees for complex projects. An IVR does amazing work for simple tasks; why pay your employees to answer simple questions like "How late are you open?" or "How much is left on my gift card?"
That's a lot of benefit, and when you're ready to take advantage of those benefits yourself, contact us at Snap Recordings. We've got over 100 voice talents ready to provide just the message for your IVR, and in several different languages.