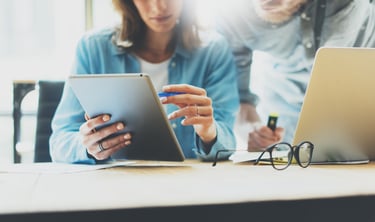 When looking into business phone system options, there are plenty to choose from – especially from a small business perspective. From PBX, VoIP and UC, it can be confusing to narrow down the many contenders that have flooded the market.
Either way, having the right phone system is a necessity to making you and your employees readily available for customers and other inquiring callers. Otherwise, your productivity and ability to do business will suffer – and, consequently, those callers will be lost to your competition. We've done an overarching comparison of what the best business phone system is, based on your company's needs, so you can make the most informed decision possible.
A COMPARISON: WHAT TO LOOK FOR
It's clear as a small business that you need an optimally-run phone system that enlists the best features and automation to keep your team both collaborating and productive.
Keep the following factors in mind when doing your research:


Your current and expected business size – Depending on your rate of growth, this could change, so make sure your system offers flexibility in terms of phone lines and can add/remove quickly on an as-needed basis. Also, if you want to up or downsize quickly, be careful of contracts, as your terms can affect your ability to adjust the number of phone lines. Most carriers have 1-3 year contracts, and find out what your cancellation terms are, as you can find a good, competitively priced service that has no contract.


Hardware or not? – Find out if you'd rather store your infrastructure in-house, or have a virtual or cloud-based solution. Having the latter relieves office space and prevents the risk of long-term outages if a natural disaster or other accident out of your control occurs.


Features & integrations – Think of a features wishlist on what you want your phone system to fulfill. For example, are outbound calls more important than inbound, or are they equally important? Then, you can cross-reference whether the system will meet and exceed your business's needs. This includes reporting and analytics capabilities, as well.


Phone utilization – Are your employees on-the-go? Do you need to consider the ability to conference multiple workers together, enable a screenshare or video call, etc.? Find out what you need and where, as this can be pivotal to making a decision on a phone system's ability to jive with your office's needs.


Cumulative costs – Obviously cost comes into play, but it all boils down to what return on investment (ROI) the phone system will provide. How will it benefit you in the short-term and long-term?


Vertical and industry –

There are hundreds of solutions out there meant to be broad, specialized and everything in-between. Evaluate between systems which has the potential to succeed at your business function(s) in the most efficient way.
PHONE SYSTEMS BY TYPE
We mentioned the choice to have hardware on-premise, to have your system hosted or to have a hybrid model. This is also a decision you'll need to weigh as you wade through the phone system options out there.
You have a few main types to look at (there are others, but we'll stick to 3):


Private Branch Exchange, or PBX – This is the traditional idea of how phone calls are made; they're based more on-site, but have a high level of reliability.


Voice-over Internet Protocol, or VoIP – The basic definition of this is Internet-based calls; this can be very cost-effective, and doesn't require heavy lifting to install.


Unified Communications, or UC –

Just like it says; the unification of different calling mediums, from SMS, video calls, voicemail, email, and more. It requires a combination of software and hardware, but it can make your processes more streamlined than ever before.
Depending on the business's situation and needs, it's not always easy to pinpoint what you need. And sometimes, having too many options can only serve to further confuse you.
Let's dive into providers now that you have a basic understanding of what to look for, and a few popular systems out there available to you.


TOP BUSINESS PHONE SYSTEM PROVIDERS
While these may not be the end-all-be-all for your business, the following providers are a good starting point to get a benchmark on your desired needs:


Phone System Type: VoIP and UC
Business Value: Offers a free trial, instant activation, mobile apps, and integrates with Google and Microsoft Office 365

Specialties and Features:


Named one of PC Magazine's best VoIP providers of 2017

Unlimited countrywide calling

Not made for residential phones or use


Pricing Tier: Plans range from $19.99-$24.95 a month

Phone System Type: VoIP
Business Value: Has excellent mobility functionality and in-depth documentation available

Specialties and Features:


Includes 45+ premium features

Unlimited calling and faxing

Premise-based system, so it requires someone in-house who understands networking


Pricing Tier: Flexible, but flat free model isn't ubiquitous; requires a qualified quote
Phone System Type: PBX or VoIP
Business Value: This solution is very customizable, and has 24/7 customer & tech support

Specialties and Features:


Works with most IP phones, and has great usability via their portal

Has a wide variety of solutions and plans, so it's versatile

Can be costly from month to month

Pricing Tier: Great quality, but on the pricey side, so not the best starter for small businesses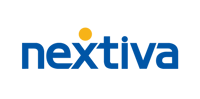 Phone System Type: PBX, VoIP and UC
Business Value: Has a U.S.-based customer support line and ease of use

Specialties and Features:


Includes 45+ premium features

Has an all-inclusive pricing model

Isn't always best for most features at the lowest price
Pricing Tier: Has a wide variety of pricing plans ranging from $14.95 for SIP Trunking and Office Pro at $19.95 a month

There are of course pros and cons for each system, but it's all about making a business phone system work best for you. We hope providing these transparent options can help facilitate your decision, as a great phone system can make the lives of small business owners inordinately easier.
The real takeaway from this post on the quest for a small business phone system: work smarter, not harder! Once you make the decision on which phone system is right for your business, check out our Products page to learn how to optimize the system!