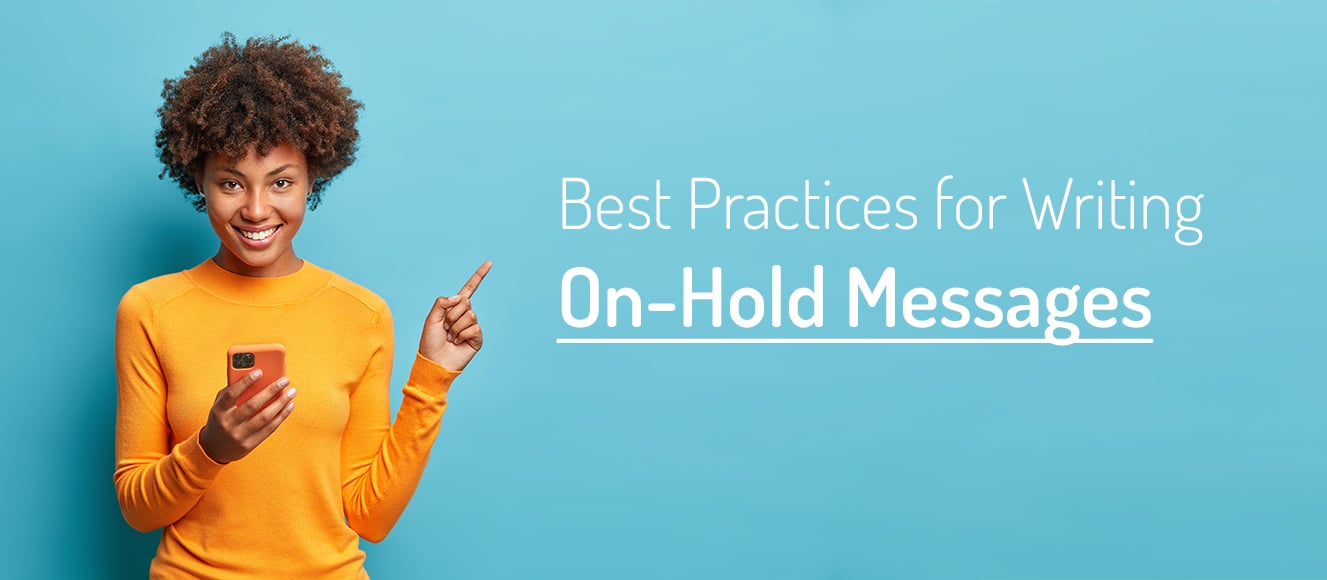 On-hold messages are one of the most underutilized marketing tools available to businesses today. They're a direct connection to callers who are already familiar with your brand. They allow you to speak to your callers at scale. On hold messages can be adapted to fit a range of use cases, especially if you are targeting your messages to different call queues.

But to leverage this marketing channel to its potential, you first need to learn how to write for and use hold time effectively.


Why Use Hold Time for Marketing?

Using hold time for marketing has psychological branding benefits. Your customers create perceptions of your brand with every touchpoint, including the phone. The way you handle the caller experience can impact how they think and feel about your brand.

For example, leaving your callers holding in silence could make them wonder if they've been hung up on. But engaging them with music and on-hold messages lets them know they're still connected. And the right messages can even make them feel valued and appreciated as a customer.

Keeping callers engaged while they wait can encourage them to stay on the line longer, giving you a chance to handle their call before they hang up. Studies show that 60% of callers will hang up when left in silence, and 30% of them won't call back.

You can tailor your marketing messages to specific call queues based on the purpose of the call. For example, if someone is calling your bank for account assistance, now might be a good time to upsell them on a better checking or savings account or enroll them in SMS text alerts. They're already in a problem-solving mindset and may be more receptive to solutions they haven't thought of.

Hold music can also influence your brand image. Aligning music with the image you want to create subtly helps callers get to know your company on another level.

Let's explore how you can write effective on-hold messages with the following tips and best practices.

What Can You Say to Your Callers On Hold?

Hold time gives you a blank canvas where you can share just about anything with your callers. For marketers, effective hold messages usually fall into one of the following categories:

• New products or services
• Promotions
• Events
• Organization updates
• Answers to common questions
• Requests for reviews or follows on social media

Here are some examples of effective on-hold marketing scripts you can use:


For Financial Services:

"Introducing the new XYZ credit card from [bank name]. We're offering new account holders 0% interest for six months and up to 5% cash back on all purchases throughout the end of the year. Learn more and sign up today when we join you on the line."


For Healthcare:

"[company name] is now taking walk-ins for flu shots – no appointment required. Ask a representative if you're eligible for a flu shot with no out-of-pocket cost to you."


For Government:

"Mark your calendars – the city of Greenville is hosting its annual back-to-school community bash. Join us this Friday, August 5th at 5 pm at the community center for food, live music, inflatables, vendors, and more. Parking is available on-site and at the adjacent park. This is a free event, sponsored by the city of Greenville."


For Educational Institutions:

"One of the quickest ways to stay up-to-date with what's happening on campus is to like our Facebook page. Go to www dot facebook dot com forward-slash Greenwood University and like our page. Be the first to learn about events and important updates for our students, faculty, and community."


For Dealerships:

"We're now taking online bookings for our service department to help you save time and a phone call. Visit us online at www dot Jay's Service Center dot com to choose a service appointment time that works for you. That's www dot Jay's Service Center dot com."
Target Your Messaging in Each Call Queue

One of the best ways to grow your business is by marketing to existing customers. Research shows that the probability of selling to an existing customer is 60%-70%, compared to just 5%-20% for a new prospect. What's more, existing customers spend 31% more compared to new customers and are 50% more likely to try new products.

Your customers call your business for different reasons. Separating callers into different queues ensures they're routed to the right person who can help them. But it also gives marketers a unique opportunity to target on-hold messages to individual callers.

For example, current bank customers might be calling to report a lost or stolen card. This is a great opportunity to talk about identity theft prevention tips or data protection services you offer. These same on-hold messages might not have as much of an impact on customers who are calling to check their account balance or apply for a loan.

And in some cases, using marketing messages on hold might not be appropriate at all. Callers that are experiencing a problem or are trying to cancel an account won't want to hear about upgrades or new services.

Call queues offer an advantage to marketers because you don't have to rely on one-size-fits-all hold messages. You can play different messages to different customers based on the purpose of their call and have a better chance of making strong connections with them.
How to Write Effective On-Hold Marketing Messages

The marketing message itself is just as important as how you use it. Call queues are a special medium that takes a slightly different approach than other marketing channels.

These tips can make your hold messages stronger and improve recall:


Learn How Your On-Hold Messaging Feature Works

Many business phone systems play on-hold message productions at the beginning every time. Others may have a continuous stream and callers might enter in the middle of a message. Knowing how your phone system operates can help you decide how to order your messages.

It's best practice to place your most important messages at the beginning of the production if your recordings start at the beginning. This way, callers get the most essential information in case their hold time is short.

For business phone systems that play a non-stop loop, the order of your messages might not matter as much.


Choose Topics Your Callers Care About


Callers are more likely to pay attention to hold messages that affect them. Work with your sales team, help desk, and customer success managers to pull reports and see what questions callers are asking. Then write messages that address those needs.


Keep It Short


Shorter is better for on-hold marketing. Shorter messages are easier to remember and callers will likely hear the entire message before their call is answered.


Align Your Message Length with Average Hold Time


Hold times can vary between businesses and locations. Keep the average hold time in mind when writing your on-hold messages and deciding how much space to leave in between them. With shorter hold times, you should aim to write shorter messages and/or leave less time in between each one. For longer hold times, your hold messages and in-between music might be longer, too.


Stick with One Idea Per Message


One idea per message improves recall. Too much information given at once can muddy the message. Your caller is more likely to tune out longer messages because it's too much to remember.


Add "Comfort" Messages


"Comfort" messages (e.g., We appreciate your patience, Thank you for holding, etc.) give your callers mental breaks. Instead of pitching one idea after another, these messages help callers feel less overwhelmed with information.


Include a Call to Action


Tell your callers what to do next. Should they visit a website? Ask a representative about an offer? Make it easy for them to connect the dots.


Answer What's In It for Me?


Give your callers a reason to care about what you're saying. Make it all about their needs and what they get from whatever you're offering.


Use Simple Language


Simple language makes it easier for your callers to stay plugged in and understand what you're saying. Shorter words and a conversational tone are always better.



Best Practices for Recording and Deploying On-Hold Messages

After writing your on-hold marketing messages, you will need to have them recorded and uploaded to your call queues. There are a few different ways you can do this.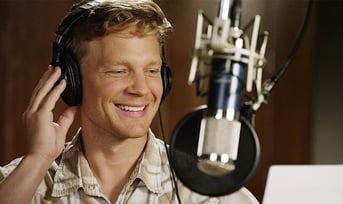 One option is to use a professional voiceover talent that reflects your brand image. Snap Recordings offers access to more than 100 industry-leading voice professionals. Preview samples and choose the one that fits your brand.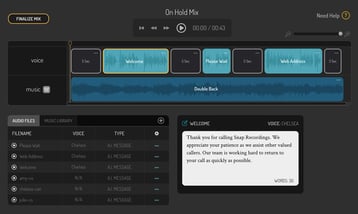 Another option is to use Snap Recordings' Studio A.I. to record on-hold messages on demand. Our AI-powered platform allows you to input your script, choose an AI voice, and record a natural-sounding message in seconds. This is a helpful option when you want to update your on-hold marketing quickly (for example, you're launching a new product or service and want to get the word out ASAP).
No matter which option you choose, these best practices can help you record and deploy on-hold marketing messages with confidence.
Use a Consistent Voice


Using multiple voices for your on-hold messages can impact your professional image. Consistency can make you look more polished and intentional about your messaging. It also positively affects a caller's subconscious image of your brand when you present a cohesive experience.
Snap Recordings makes it easy to build consistency into your messaging. You have the option to choose which voiceover to use, so you can have all of your recordings in the same voice even if you record them at different times.
Use a Professional-Sounding Voice


Some companies prefer to DIY their on-hold marketing recordings by using an employee's voice recorded through a phone or their computer microphone. While this may help to save money vs. professional recordings, it doesn't help to build a positive brand image.
It's easy for callers to tell when a recording is homemade. And without sophisticated recording equipment, DIY recordings usually include background noise or interference that reduces the audio quality.
One exception is when you want to include a special message from the CEO or other important company leader. Studio A.I. features a built-in voice recorder as well as the option to upload any type of audio file. Our technology can match the sound of all audio files provided, whether they're professionally produced, recorded on your own, or recorded via our AI voice options.


Choose Music that Reflects Your Brand


On-hold marketing messages are usually recorded over background music that also plays in between messages. Choose music that reflects the brand image you want callers to have. What you don't want to do is to use just any music for your on-hold marketing. Using unlicensed music can create potential legal problems and result in costly fines.
With Snap Recordings, you can choose from more than 1200 pre-licensed music tracks that are included in our service. We take the chore out of finding licensed music that's optimized for business phone systems. You don't have to spend hours searching for licensed music, nor do you have to worry about paying royalties to music providers.
In Studio A.I., you can easily swap out just the music to refresh your caller's experience (such as temporarily switching to holiday music). Or, you can choose different music tracks for different call queues.
Organize Your Assets


Creating on-hold marketing messages for different call queues can get messy and cumbersome to manage. Having a tool to organize your audio files makes it easier to keep track of what's playing in each location and update your messages with speed and convenience.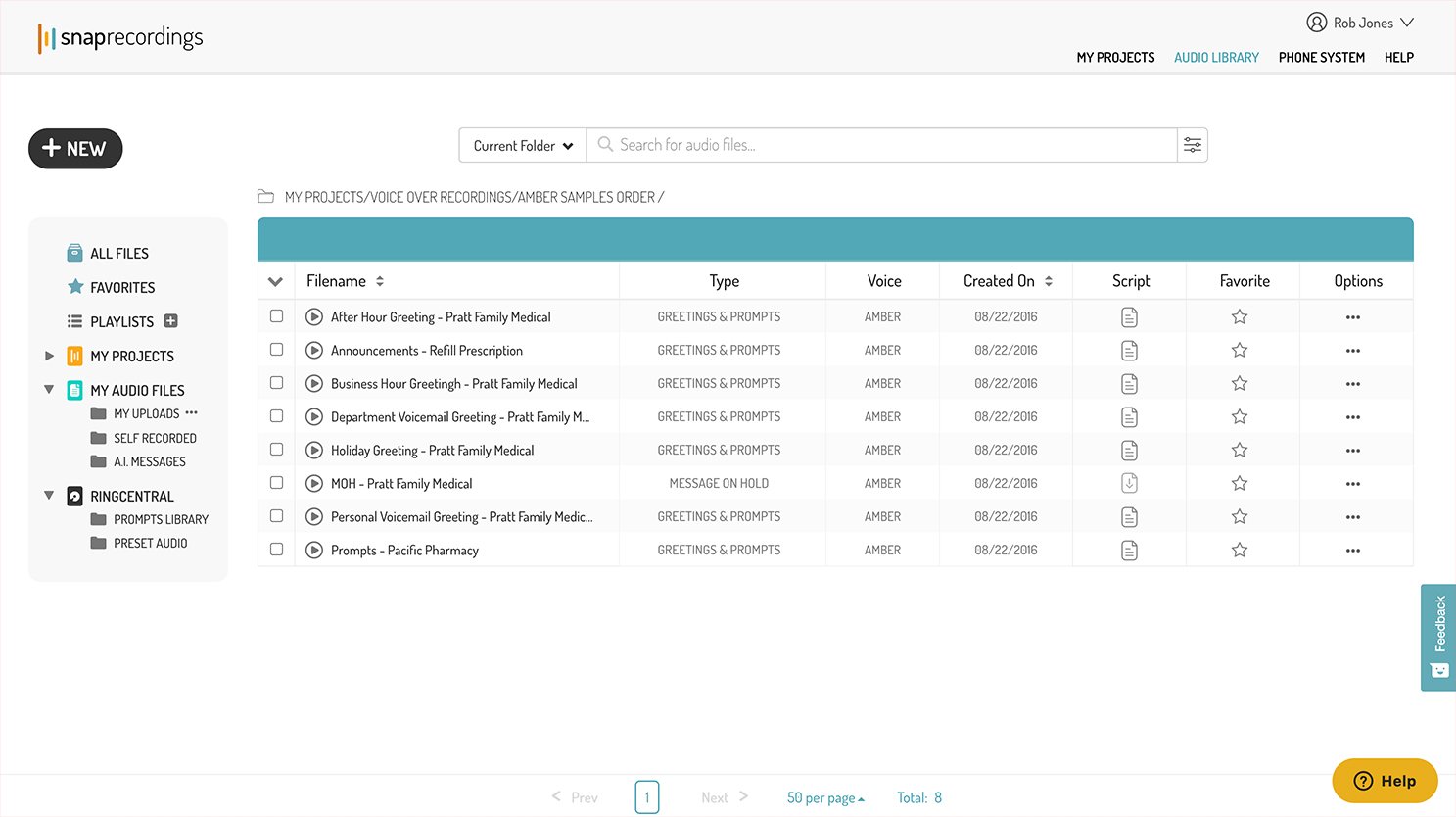 Snap Recording's Audio Library - the best way to organize all your phone system audio files.
Studio A.I. combines the quality, speed, and consistency you need to harness this marketing channel. Every message and mix you create is stored in your library for easy future access. Swap out single messages or music and create brand new mixes with just a few clicks. Keep all of your audio files together so you can remain agile and update your on-hold marketing whenever you need.
Create Winning On-Hold Messages with Studio A.I.


On-hold marketing is a highly underutilized marketing channel that allows you to speak with every caller at scale. At Snap Recordings, we're helping marketers harness this marketing channel by providing speed, agility, and quality. We take the chore out of creating and updating your messaging so you can continue to provide a tailored, customer-first experience.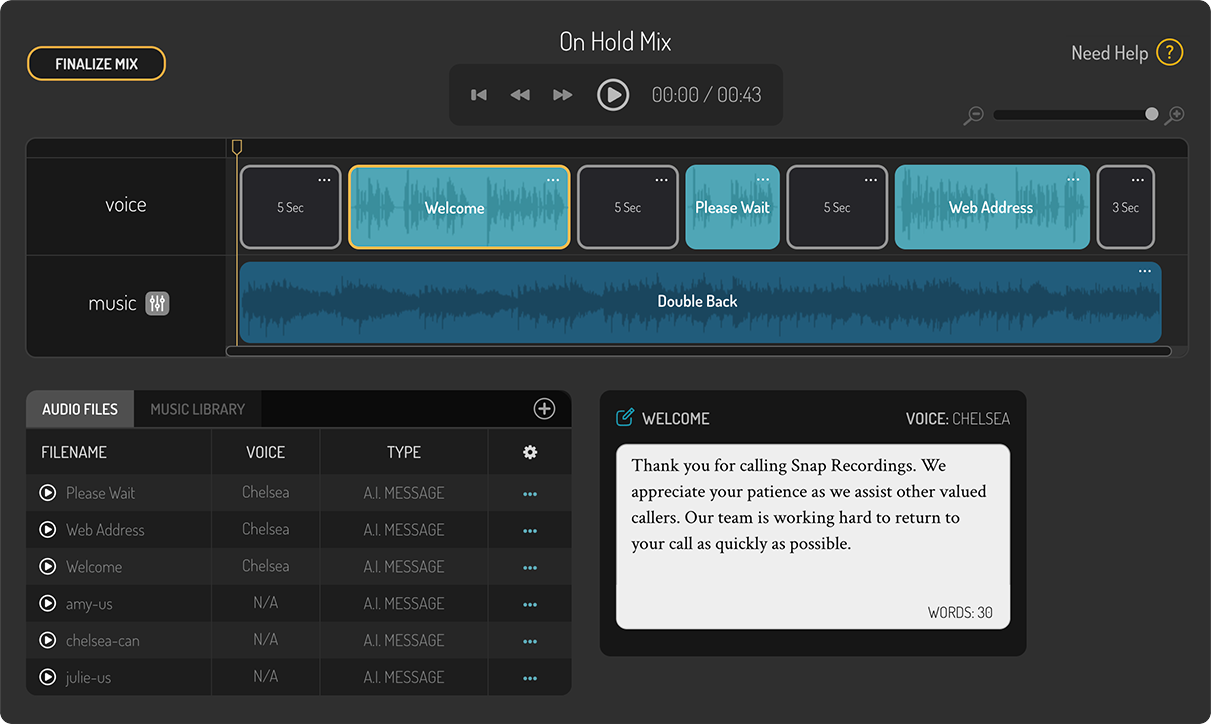 Learn more about Studio A.I. here or contact us to schedule your Studio A.I. demo and take a better approach to on-hold marketing.