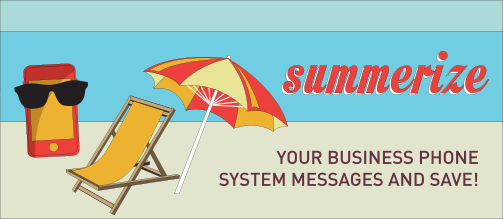 Just like your wardrobe, it's a very smart idea to refresh your business phone system for the long hot days of summer. Season-focused greetings and on-hold messages can not only provide valuable, up-to-date information for your callers, they can fuel additional sales during these notoriously slow months.
The following ideas can help you liven up your phone system messages and make them summer-ready.
SHARE YOUR SUMMER HOURS
If you have updated hours of operation for the summer, it makes sense to share this information with your callers on your phone system greeting. Whether you have shorter hours, extended hours, or will be taking time off for a summer vacation, a message that provides the details will indicate your attention to detail and your focus on customer service.
ANNOUNCE A SUMMER SPECIAL
Did you know that 15% to 20% of callers will make purchases based on information they heard while on hold? If you're not offering a summer special or promo to your callers this summer, you're missing out on a valuable marketing opportunity. Take advantage of the slow season by offering a unique opportunity for your callers to try a new product or service and provide the details via your on-hold message. You may be very surprised at how successful this summer strategy is!
ADD SOME SUMMER MUSIC
On-hold music is a highly effective strategy for reducing abandoned calls. To create a summer feel for your phone system, incorporate island or beach music to your on-hold message that will certainly keep your callers entertained during their hold time.
OTHER INFORMATION
Do you have seasonal tips or advice that can educate callers about your products or services? Consider adding them to your phone system messages. It's a great way to provide useful information and improve your callers' overall experience with your phone system.
THANK YOUR CUSTOMERS
There's never a better time to thank customers than the present. Don't wait until the holidays to show your appreciation. Express thanks for their business in a summer message to build loyalty and positive word of mouth.
Summer is here, and Snap Recordings is offering a special you don't want to miss on professional voice recordings. Get 15% on all greetings and on-hold messages, and make your phone system "summerific" today!