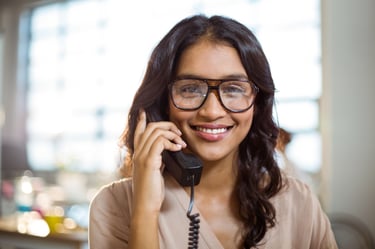 It's pretty common for business managers to question the value of adding messages in addition to music that may be played by their business phone system's call hold and park features. After all, callers are not going to have to wait more than a few seconds, maybe a minute max - aren't they?
Given the hectic activity of today's lean and efficient businesses, customers ARE being held for longer and longer durations. Ask yourself - how long did you wait the last time you needed to change an airline ticket or needed to get your license plates renewed? How can a business create a better experience for callers?
In many ways it may seem illogical at first, but providing something for callers to listen to, such as a few recorded messages while they're waiting, actually makes sense AND can benefit your business at the same time.
Well, there really are a few very good reasons to implement and add Message-On-Hold features to your business phone system:


#1

TO IMPROVE HOW LONG CALLERS ARE WILLING TO STAY ON HOLD
Statistics from a CNN survey cited by Chron.com state that "70 percent of callers who are placed on hold with just silence hang up within 60 seconds; of them, 35 percent won't call back." The statistics don't change when repetitive music is played. Callers will abandon a call for two basic reasons; from basic frustration or feeling ignored and forgotten, or mistakenly believing they were accidentally disconnected or just hung up on.
Adding on-hold messages to your phone system lets customers know they're still connected and that you haven't dropped the call, thus helping to convince them to be patient and stay on hold (aka their call endurance).


#2

YOU HAVE A CAPTIVE AUDIENCE
The time that your callers spend on hold is time when they are a captive audience. Providing messaging when callers are on hold helps occupy and entertain them to some degree; and most importantly, your business can make the most of that captive customer time.
To leverage this opportunity, you could build rapport by sharing important information and news about your business, help ensure the caller is prepped for their impending call transfer or even promote specific services, products, or events. Announcing promotions and events can help a customer find out about something they may need from you that they haven't even thought about; thus creating new sales or service opportunities. For example, customers often neglect to check their anti-freeze or replace their windshield wipers when they have their snow tires put on in the fall.


#3

HELP PROCESS CALLS FASTER ONCE THEY CONNECT
If you add preparatory information to your Message-On-Hold messages, you can actually improve the speed at which calls are processed and improve call handling time metrics. A simple message reminding customers to have their account number, claim number, registration, credit card, policy number or other necessary information ready, can reduce the time you (or your employees) spend waiting for a customer to dig out this information and frustrating them after the call connects.


#4

SET A BUSINESS TONE BEFORE THE CALL CONNECTS
A set of on-hold messages & music helps to establish a tone for your business before the caller ever connects with an employee. A grumpy and over-worked employee answering a customer's call with "Yeah, what….?" puts any customer on edge with a bad first impression of your business.
Professional-sounding recordings can help improve a customer's opinion of your company. Creating a tone and voice for your Message-On-Hold feature that's consistent with your company and its values can actually improve the caller's overall experience. An ocean cruise company should have a cheery and upbeat tone, whereas a mortuary should have a solemn and sympathetic tone - just common sense at play. Most companies just choose a sincere, and most importantly, a professional tone that communicates your business's commitment, expertise, and validity. Customers gain critical confidence in your business before they ever talk to anyone.


#5

TO SOUND UP-TO-DATE
Adding seasonal, holiday, or other temporary messages such a facility closures or construction notification to Message-On-Hold features helps make your business communicative, attentive, and that ever important quality of being "personable". Holiday and seasonal messages are prime opportunities to thank customers for their patronage and wish them well, not to mention providing holiday specials and promotions as a thank you. All of which reinforces the caller's perception of your business's professionalism and awareness - a business that will treat me with importance and take care of me as a customer.
Of course, to get the most out of this, you'll need to be able to efficiently manage your seasonal and holiday messages so that you don't have Christmas-themed messages playing in the middle of January and that is where professional recordings shine, being able to communicate that holiday season through words and music.
These are just a few of the reasons why you should leverage Message-On-Hold for your business phone system. To learn more, or to see how you can efficiently make on-hold messages for your business, check out some of our other resources!