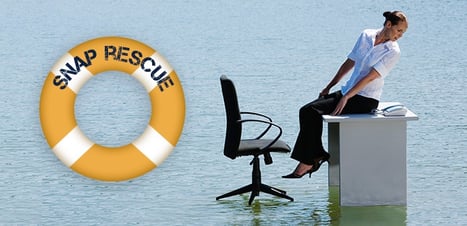 In wake of Hurricane Sandy and the many communities and businesses it devastated, ensuring the security of your clients continuous business is key. When a natural disaster strikes, panic hits families, friends and business owners. As vital as it is to promote safety for your family and friends, business owners also need to alert their clients that their business is in safe hands. Whether you can't reach your office to carry out your daily client relationships, or your business storefront is closed until it's safe — the quickest and most effective way to keep your clients informed is through having a professional telephone greeting ready-to-go.
According to ABC, Hurricane Sandy's economic losses could range around $35 billion to $45 billion. With at least two days of lost commercial activity, it is important for all businesses to take preventative measures to sooth the worries of their clientele and lend them the comfort in knowing that their business is protected.
The first step in taking a preventative measure for a natural disaster is to remain available to customers, colleagues and prospects even if you can't get into the office. You don't want to leave your clients in the dark with a phone that constantly rings and leads to the same generic greeting. You need to update your business' phone greeting and more.
Below are helpful tips to customize your company's telephone greeting during a natural disaster:
• Make sure to have a professionally recorded telephone greeting ready-to-go if a natural disaster were to occur.
• Have an executive level employee or owner/CEO record your businesses' phone greeting. He or she should introduce themselves by first and last name, and title. This will promote reassurance when clients hear the message coming from an executive level.
• Be sure to speak calmly and clearly to keep panic levels minimal. The last thing you want to do is record a message that is muffled and full of fear. Your objection is to ease your clients' and customers' worries.
• Address the natural disaster in your greeting whether it's an earthquake, flood or hurricane. This adds a more personal touch than a generic natural disaster greeting and shows you're in touch with the current updates.
• Alert customers that your business is temporarily closed for safety but you're checking all voicemails and emails where applicable.
• Forward your business lines to another phone number (cel phone and/or home) if you're unable to get to the office or your storefront. Be sure to mention that you're working from home during this time.
• Let customers know what measures you have taken to ensure their business needs. Dependent on your industry you may have moved data centers, postponed all appointments or are emailing documents that were slated for airmail.
• Inform your clients that you will notify them by telephone and/or email when business doors are open again.
• Leave your clients with a personal closing message that shows your concern for their family and business. Be sure to wish them well and safety during this critical time.
It's never too early to enforce preventative natural disaster measures for your business. A professionally recorded greeting should be an integral part of your business' natural disaster plan. Click here to get started with your Snap Recordings professional telephone greeting.