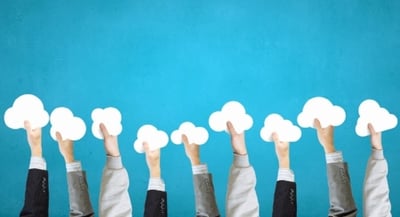 The Unified Communications as a Service (UCaaS) delivery model has gained considerable traction over the last few years – and that momentum is expected to continue. According to a Transparency Market Research (TMR) report, the UC market is expected to reach $61.9 billion by 2018.
As UCaaS continues to grow, it's important to examine the nature of this climb and evaluate its effects on business this year and onward. This includes the drivers, strategies and shortcomings of the market and how this impacts you – from a business and personal view.
THE DRIVERS OF GROWTH
80% of Internet users own a smartphone. (Social Media Today)
The need for unified communications has sprouted across all industries and verticals due to the cost-effective, easily deployable and scalable model it brings.
Some other key growth drivers of UCaaS are:


An increase in the mobile workforce
An increase in bring your own device (BYOD) work models
The ability to customize pricing based on business size
The appeal of a consistent service over time
The lack of dependency on in-house hardware and IT

It's apparent mobile usage has changed the way we view entertainment, work and interact with others.
The real question out of all of this is: How will these growth drivers affect UCaaS trends moving forward?


UCAAS TRENDS
Having unified communications is just as important for your employees as it is for the customers involved. Keep this in mind as associated trends and insights continue to emerge, especially with the cloud and otherwise.
Some major players that are continually evolving are:


Interoperability
This is huge, and can be a roadblock for UC to fully succeed and facilitate growth in your office. Ensure all UC services are able to function alongside vendors and users. Otherwise, you may be hurting more than you're helping. If done right, though, you get an immense reward in the form of increased productivity and the ability to perform all needed tasks and receive information in one place.


CRM Integration
Similar to interoperability, there's a dire need for end users to be able to get to what they need quickly (and add/log call information) without hopping between systems, files and programs. For example, having a click-to-call capability on an app circumvents the need to transfer programs.


Remote Access
It's apparent with smartphones we're able to work on-the-go more than ever, and businesses using UC can enable apps to make this a reality. In fact, 23% of workers report doing a portion of their work remotely from the Bureau of Labor Statistics (a large increase from 19% in 2003). This trend will continue, as remote work not only means a reduced carbon footprint, but with the ability to video conference in, workers feel just as connected to their job. Unified communications at its best.


Instant Messaging
While email has no signs of disappearing in businesses, instant messaging can truly bring the unified part of UC home. This encourages an anytime-anywhere communication model, which helps with collaboration between coworkers. Need to message Steve? It takes seconds instead of a moment of filling out his email, a subject line and then the actual question or task itself. Time saved – instantly.


The Cloud
Having a third party service house everything under one base application is a trend we're seeing more and more of. This will continue to shape the UCaaS space as a trend, and its advantages of instant upgrades as well as not needing hardware or infrastructure make it appealing for small and medium-sized business owners. The learning curve for users is also minimal, which also adds to its appeal for many.
What trends have you seen in UCaaS that you think will continue or change? Share them with us in the comments below, or feel free to reach out to us on Twitter!