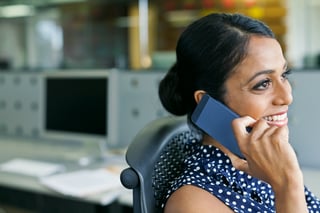 Being on hold is never fun. It's often necessary, as businesses need time to find answers to questions and otherwise help customers. Determining how best to leave your customers on hold, however, can mean the difference between customers kept and lost. Using a "message on hold" can improve customer responses and ultimately keep customers from hanging up and going elsewhere.



WHY SHOULD I USE A MESSAGE ON HOLD SYSTEM?
Using a message on hold offers unique advantages while preventing a lot of common problems to other hold formats like music.


SILENT HOLDS RUN CALLERS OFF
An AT&T study found that 60 percent of callers waiting on hold in silence will hang up. Callers who hang up don't buy, so having some kind of on-hold recording waiting in the background helps retain customers, whether it's music or voice. Music, however, has its own problems.


MUSIC-ONLY HOLDS CAN ANNOY CUSTOMERS
A study published in the Journal of Applied Social Psychology by Karen Niven revealed that music with "pro-social" lyrics actually left customers slightly angrier and call center workers slightly more exhausted than that with "neutral" lyrics. The right music becomes particularly important, and a hold that uses music alone can be a risky strategy. Imagine a roofing company who played "Blame It On The Rain" on hold; it projects the wrong image.


VOICE RECORDINGS PROVIDE VALUE TO THE CALLER
A caller who's on hold with voice messages is a captive audience. This is a great time to bring out the company's marketing message. Offer information about operating hours, about any new products that are coming out, or even throw in a special deal. Imagine customers' delight to hear "Your call is important to us. So important we'll give you 10 percent off your next visit with the offer code 'I was on hold.'"


HOW DO I GET STARTED WITH MESSAGES ON HOLD?
If you want to leave behind the music-only hold—and if the thought of leaving your customers in silence leaves you cold—then talk to us at Snap Recordings. At Snap Recordings, we offer not only a wide range of voice acting talent to choose from, but we also offer specific accents. This lets your voice on-hold recording better fit into the local area, putting customers at ease and encouraging retention. While any hold is better than none, only messages on hold provide the mix of engagement and information your customers want most.