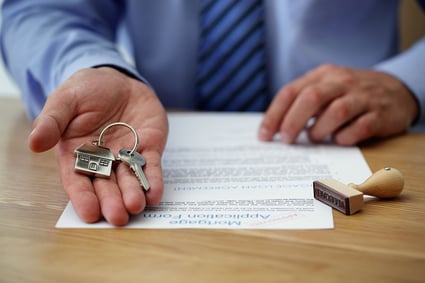 Whether you are a loan officer or mortgage broker, you've dealt with your fair share of hiccups throughout the mortgage financing process. While these challenges are par for the course for you, your clients often have a different perspective. Most homebuyers don't fully understand the mortgage process and can be overwhelmed by how much it entails. Ensuring a positive client experience is all about managing expectations. Most importantly, it's just good business. In fact, mortgage servicers that invest strategically in the customer experience not only recapture that investment, but can also increase profits and raise customer satisfaction. Here are 6 easy and effective ways to manage client expectations during the home financing process.


#1:
GIVE A DETAILED OVERVIEW
It seems like a no-brainer, but many mortgage lenders skip this step all together. The mortgage process can be trying, and if your clients understand this going in, they are less likely to take issue with untimely delays and last minute requests. Walk them through the process at the beginning, assure them you are available to help every step of the way, and mean it.
#2:
ANSWER CALLS
Customer-service surveys consistently find that the number one complaint clients have is that brokers don't return their calls. Although you are preparing for several closings at once, each of your clients needs to feel like a priority. Keep in mind that they are making one of the largest investments of their lifetime, and a little assurance goes a long way. Be sure to answer calls whenever possible, even if it means putting callers on hold. You can keep them entertained and informed with a custom on hold message. If you can't get to the phone be sure to return calls ASAP.


#3:
ANTICIPATE CHALLENGES
Mortgage lending requirements are stricter than ever before, and that can mean having to jump through a lot of hoops to meet closing deadlines. Provide the client with a checklist of required documents as well as any documents that they may be asked for. Ask questions like: "If the bank asks for your canceled utility checks, how long will it take you to obtain them?" That way they can be better prepared and pool all their resources before they are needed.
#4:
DEVELOP STRONG PARTNERSHIPS WITH REALTORS
The client's Realtor is an important ally in the mortgage financing arena. For starters, you both have the same goal…closing on time. The Realtor can also help you manage client expectations, provided you don't over promise on things you can't deliver. Work better with real estate agents, and you'll work better with the clients too.


#5:
SHARE REGULAR UPDATES
Whether it's because there is nothing new to report or there is bad news they don't want to deliver, all too often, loan officers avoid communicating with clients. However, lack of communication will always come back to haunt you. If you make it a habit to communicate well on the small things, it will be easier to tackle the bigger issues when they come up. One of the ways you can do this is by acknowledging the receipt of all items the client sends. Simply put, never leave the client wondering (and worrying) if you received their documents.


#6:
PROVIDE EDUCATIONAL RESOURCES
You've heard it before, an educated client is your best client. While it's not necessary to keep them up to speed on all the minute details of their loan, providing resources they can turn to if they have questions or concerns is essential to managing their expectations and ensuring their satisfaction. Compile helpful articles on your website, share home financing tips on your social media pages, and customize your on-hold greetings with informative content about what to expect during the loan process.