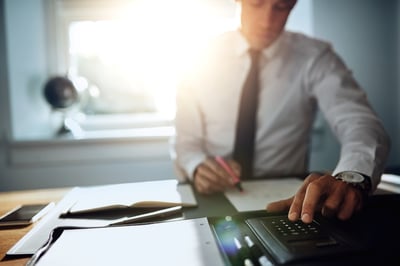 Tax season offers the perfect opportunity to connect with your current clients and gain new business. However, capitalizing on this momentum requires effort and resources, which can be challenging for independent CPAs and small accounting firms. If you want to create a service experience that builds client loyalty and generates referrals, you need to ensure that each client leaves your office feeling confident in your expertise and satisfied with the service you provide.
Working long hours with limited staff, can make it difficult to maintain this level of service (especially during the tax season peak in March and April), but it is possible! With some pre-planning and creative solutions, you can maintain excellent client service during the 2018 tax season rush.


#1:
KEEP IN TOUCH
Most clients need a little hand-holding when it comes to tax prep time. From what documents to bring to important business tax deadlines, keeping your clients informed is the foundation of delivering exceptional service. Utilize email marketing to announce your extended hours and open appointments, as well as to send 'thank you' follow up emails. Remaining open and communicative with clients will help them feel like more than just another number to your accounting office. It's wise to invest in CRM software, if you haven't already. This allows you to automate many of these processes, so you can focus on delivering excellent tax preparation.


#2:
MANAGE EXPECTATIONS
While your fellow accounts fully understand how chaotic tax time can be, your clients don't. Do office wait times run longer during evening appointments? Are there any tax law changes that clients should be aware of prior to filing? Keep clients informed upfront in order to better manage their expectations from the start. On hold messages are an excellent and affordable way to ease the frustration of longer hold times while keeping clients engaged with important content.


#3:
SUPPORT YOUR STAFF
Tax season stress isn't exclusive to CPAs. Your staff is feeling the pressure too; so be sure to provide them with the support and encouragement they need during this hectic time. Happy staff are not only more productive, but according to Forbes, "the key to achieving customer happiness, as in customers who want to do business with you again and again, is to focus on employee happiness first." Find ways to reward your staff for their hard work, and be sure to bring on seasonal help, as needed.


#4:
BUILD RAPPORT
Are your clients preparing to downsize their home? Sending a child off to college? Launching a home business? Taking a few extra minutes to get to know your clients builds trust and allows you to anticipate their future tax challenges and highlight additional services or resources that may benefit them. Go the extra mile, and make note of what you discussed after their appointment, so you to refer back to these topics the next time you talk.


#5:
GET ORGANIZED
There is a reason cooking shows have the ingredients pre-measured and readily available during the demonstration. When things get hectic (and they will), having all of the tools you need at your disposal can make all the difference. Take time to declutter your office, organize digital files, and stock up on supplies before the tax rush. This is also a good time to test your tech. Make sure your website is fully operational and has updated tax season hours and information, test your phone extensions, and update voicemail greetings and on hold message with important tax season information.
The work you do this tax season will determine who continues bringing their business to your accounting office. It's the little things that make a big impression. So make the extra effort to reap all the rewards!