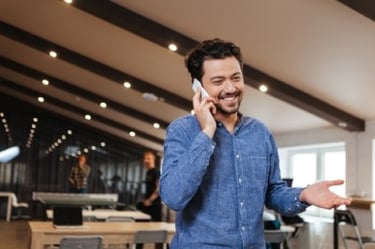 It's helpful to remember communication on a basic level.
One party has a message and seeks relevant listeners, or someone is seeking something and wants to know the best way to get it. Satisfying this dynamic is one of the defining characteristics separating us from the animal kingdom.
How do so many of us get this simple concept wrong?
In terms of business, whether or not communication is effective can usually be felt when looking at the bottom line: revenue.
A SIMPLE FIX
You have a good product or service that meets the demand of a targeted market. You are able to deliver high value to meet a real need. You even have a strategy for getting the word out.
But if it's not working, the solution isn't to make more noise about a great deal. Instead, get back to the basics: What is your target market seeking that you're not delivering, message-wise?
When you're a business, it's much better to empathize with what your market is seeking, rather than what you want to tell them.
APPLYING THIS SHIFT IN PERSPECTIVE TO YOUR BUSINESS PHONE SYSTEM
Put yourself in the shoes of your caller. She may have searched for several minutes online before finally pulling the trigger with a phone call. Think about what she'll want to hear when calling your business:


What will her first impression be of your brand after having made the call?

If she's trying to get specific information, how easy will it be for her to find it?

Could your intention to give her a great deal backfire?
There are ways to ensure that your messaging does not backfire.
Step 1:

Analyze how your phone system operates
Before maximizing and unleashing the power of your phone system, you have to understand how it works. Often, what happens is that an extremely busy administrator finds a great deal on a system, acquires and implements it, but never takes the time to understand how to best use it.

Step 2:

Understand your phone system's call flows/mappingS
Most of the great deals you may find in today's business phone network offer a nice variety of destinations. To apply the principle of giving the caller what she wants, make sure they are efficiently delegated to the appropriate channel.
Assume that your callers are busy people with full schedules. They may call your business while running errands. So, if you frontload their calls with info that they feel is irrelevant, they'll likely disconnect and try your competitors.


Step 3:

Engineer wisely with Message-On-Hold (MOH)
In a previous blog, we discussed the value of having and utilizing message-on-hold for your businessphone system.

MOH really enables businesses to apply promotional messages in the appropriate places. Several business phone systems today can tailor which message gets delivered when routed to a specific department.
For example, the best place to advertise a great deal on an oil change with a complimentary tire rotation would probably be while callers are on hold for the service department. Or, the sale's department's MOH may advertise deals for the latest models on the sales floor.
The opportunity to leverage MOH promotions are wide open. When callers are being routed to the electronics department of a retail store, that's where you'll want to promote deals on electronics. Essentially, place promotions where they are relevant.
Again, you first have to understand call routing before you can use MOH to your advantage.

Step 4:

Use common sense
If someone is calling customer service with a complaint, that's not the time to offer promotions. Someone having car troubles after purchasing from a dealership will be in no mood to hear about deals on the latest models.


Step 5:

Working with limited MOH options
Some phone systems will not have multiple MOH options, so think about what will work best as a general message.
For example, a doctor's office with only one MOH option may want to focus its message on the staff's expertise. Did they graduate from a prestigious university? What special certifications do they have? How long have doctors been practicing? Does the practice use cutting-edge technology?

Step 6:

Consider improving your brand
There's an easy way to yield a great impression for your business phone system. Whether callers are existing clients or they're first-time callers, high-quality sound, voice talent and music can offer immediate and long-term dividends.
Poor quality in voice recordings may give the impression that behind fancy signage or a slick website is a shoddy operation. Again, callers are quite engaged once they decide to call, so don't let your brand suffer from a confusing and low-quality phone system.