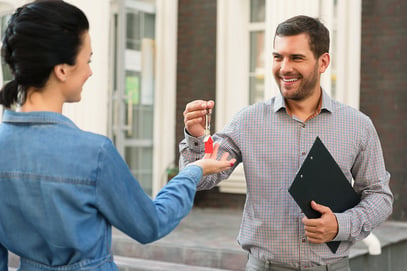 Property management is a customer focused industry. However, today's property managers wear a lot of hats, and juggle an array of tasks on any given day. Whether on-site or off-site, they don't always have the time or resources to provide immediate response to each any every tenant issue. It has been estimated that it costs seven times more to bring on a new tenant then it does to renew an existing one, which means this is a problem you'll need to overcome if you want to keep your tenants happy and your turnover rates low. Fortunately, you may already have all the tools you need to tackle this challenge, and you'll find them in your business phone system. In fact, today's cloud hosted phone systems offer a wide range of features that you can use to help resolve your tenant issues. Here are just a few tenant challenges you can overcome with your VoIP business phone system…
PROBLEM:

MAINTENANCE REQUESTS AREN'T GETTING ADDRESSED QUICKLY ENOUGH
SOLUTION:

FIND ME, FOLLOW ME
Maintenance issues come in all shapes and sizes. Whether it's a burnt out bulb or a leaky water heater, it is important to acknowledge all concerns in a timely manner…even if service has to wait. Many IP phone systems offer Find Me, Follow Me, an advanced call forwarding feature that quickly routes maintenance calls along the proper chain of command. You provide a list of phone numbers and the system can ring all simultaneously when a maintenance call comes in or follow your chosen call sequence. For example, when a tenant calls for maintenance the system can ring the technician first, if there is no answer it can then ring the on-site office, followed by the property manager's mobile phone, and then redirect to the on-call technician's voicemail. This allows you to establish a clear system for addressing issues, so service requests don't fall through the cracks.
PROBLEM:

TOO MANY NON-EMERGENCY REQUESTS AFTER HOURS
SOLUTION:

AUTO ATTENDANT & VOICEMAIL TRANSCRIPTION
No one likes working the on-call shift, especially when it means fielding questions and non-emergency requests after hours. What you may not realize, is that your business phone system's auto attendant feature can manage some of the call volume for you. With Auto Attendant, you can customize greetings and route incoming calls based on business hours, the date, or a date range. In addition, you can set automated answering settings for a holiday weekend and then have them revert automatically on the next business day. Property managers can also take advantage of voicemail transcription, which allows you to quickly review the content of a tenant's message without having to listen to it. That way you can better prioritize what issues need to be addressed immediately and which can wait until the following day.
PROBLEM:

TENANT COMPLAINTS/QUESTIONS AREN'T BEING DIRECTED TO THE RIGHT PEOPLE
SOLUTION:

MULTI-LEVEL IVR
If you're getting rent questions left on maintenance's voicemail and service requests coming through the on-site sales office, you have to then track down the appropriate party and relay messages, which makes it very difficult to properly follow up in a timely manner. Let your business phone system's Multi-level IVR do the work for you. This multi-level auto attendant allows you to program menu options and more sophisticated call flows. In fact, it allows you to route calls virtually anywhere. So, if your property management company oversees several apartment complexes, you can route calls to a main office off-site, unify your maintenance department across multiple locations, and develop sophisticated phone trees with clear instructions on which extensions handle specific tenant concerns.
PROBLEM:

TENANT ISSUES AREN'T BEING PROPERLY DOCUMENTED
SOLUTION:

AUTOMATIC CALL RECORDING & CALL HISTORY REPORTS
Written documentation is critical when you are communicating with tenants about terminating a lease or starting the eviction process, but it can also come in handy when it comes to documenting maintenance requests, noice complaints, late rent payments, and other tenant issues. If your tenant issue does escalate and go to court, you can always refer back to this documentation to help establish your case. Automatic call recording is a feature of many VoIP business phone systems, and can easily be set up to record all incoming calls. Call history reports may also be available, allowing you to thoroughly document call times for future reference.
PROBLEM:

ON-SITE LEASING STAFF IS UNABLE TO KEEP UP WITH HIGH VOLUME TIMES
SOLUTION:

MESSAGE ON HOLD
It's a Saturday afternoon at you have 3 on-site property managers manning your sales office. One is following up on rent payments, one is giving a tour, and the other is going over the details of a lease renewal…oh yeah, and the phone is ringing off the hook because of a Move-in Special you are currently advertising. How do you manage these hectic situations while providing exceptional customer service to prospective and current tenants? The answer is a message on hold. Studies show that callers left to listen to silence on hold just hang up, while custom on hold messages can keep callers on the line significantly longer, giving you more time to attend to their needs. Your message on hold is also a powerful advertising tool for your community, allowing you to share important information about your amenties, policies, referral specials, and much more.