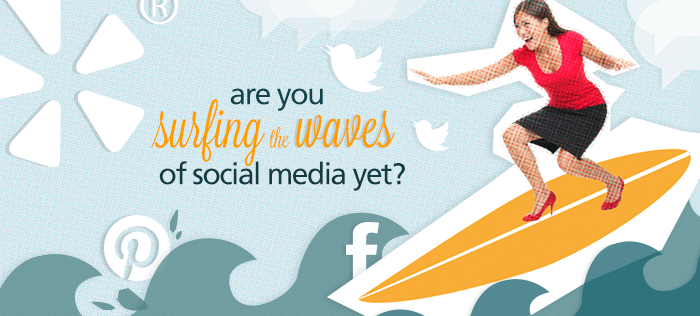 It seems like everyday there is a new social media network or photo-sharing app that you need to get on board with for your brand. Keeping up with the latest social media trends, not to mention adding your company's profile to the highest ranked social media networks can be very overwhelming; especially if you're a small business or start-up that does not have a dedicated marketing department. Like most small businesses, you probably have one person handling the many social media tasks that need to be completed to create a successful social campaign. That's perfectly fine as a start.
The key to a booming social media campaign is to stay active. The last thing you want to do is spend the time on creating various pages for your business and leave them stagnant without any social livelihood. Dependent on what's your product or service, you don't have to update every day. Sticking to daily updates Monday through Friday is a good plan-of-action, however, weekend updates can be extremely engaging depending on who's your target audience. Remember, it's quality—not quantity.
If you're just starting out with a social media campaign for your business, below are some helpful social media tips to start building your network. The useful tips below have assisted us at Snap Recordings in building our social media presence. We hope you find them useful!
ASK YOURSELF, WHO'S YOUR AUDIENCE?
Are you B2B, B2C or all of the above? Will your network most likely be spending time on LinkedIn as opposed to Facebook and Twitter, or Instagram instead of Pinterest? Does your company produce a lot of imagery that would be appealing to the eye? These are the kinds of questions you need to answer before you jump into creating social media pages for you company
Let's say for example, your business is a hip clothing boutique. This is a great opportunity for you to build a social media network based off of photos of the clothing you're selling. With a large source of photo content already at your disposal, you'd want to dive into creating Instagram and Pinterest profiles. On the contrary, let's say you're an I.T. solutions start-up; your product and service photos probably aren't very attractive to the eye. It would be wise to create a LinkedIn company page and Twitter to start networking with like-minded businesses who would find your updates valuable.
SOCIAL MEDIA MANAGEMENT TOOLS
Now, with all these social media profiles created, you want to be able to manage them all in one place; unless you enjoy having various browser tabs open and being thoroughly confused. Your choice of social media management tool is decided by the nature of your business, your budget, and how active you want to become with social media.
If it's just one person managing all the early stages of your business' social media campaign, you might want to start out with HootSuite. It's reliable and the tool of choice for many social media professionals and small businesses. The free version supports only one user and five social profiles which is great if you're just starting out. HootSuite enables you to manage your Facebook, Twitter, LinkedIn, Google+, Foursquare accounts, and more. With link tracking, analytic reports, scheduling, keyword searches and more benefits—HootSuite has a large list of functions that will make your social media management an easier task.
As your social media presence begins to grow, you may want to look at alternate social media management tools that offer more services, but also come at a higher price. Take a look at these alternate options: Sprout Social, Vertical Response (includes email marketing), Sendible (ideal for service-oriented business, such as a restaurant or salon), and Postling.
START ENGAGING!
Great, so now you have your social media profiles pages created and a social media management tool! What now? It's time to create brand awareness through conversational engagement strategies.


Follow People - Who do you want to associate your brand with? Start following Twitter accounts similar to yours, competitors, your competitors followers and who they follow, media, celebrities—basically you want to follow accounts that will benefit yours.


Encourage Engagement - Begin updating your social media profiles with useful content your target audience will find of value. Your updates can come from a variety of areas: blog posts from your company blog, promotions/sales, conversational questions, photos, videos, relevant industry news, inspirational quotes, and much more. Don't be afraid to make updates outside of your industry. For example, you may want to join in on popular hashtag updates such as #musicmonday, #followfriday, #throwbackthursday, etc. These type of updates give your brand a personal touch and let your customers know that you're human just like them!


It's Not All About You! - Nobody enjoys following a social media account that is all about their brand and nobody else. Be sure to reply back to questions, share and reTweet updates, you found useful, say "thank you" for mentions, respond to other people's updates you find interesting—even if you're just telling them you found their blog post very helpful; appreciation and showing your gratitude goes a long way.


@Mention and Tag - When applicable, be sure to mention/tag other brands or people you're talking about in your updates. For example, let's say you're running a giveaway with a promotional partner, you want to mention that promotional partner as well! The same goes if your company was featured in an online blog. You want to mention that online blog when sharing the news! This will increase your mentions, shares/reTweets, followers, and your overall brand awareness.


It's Social Media, Not Sales - Although we all want our social media conversions to result in a profit, do not, and I repeat, DO NOT come off sounding like a used car salesman. It's okay to share a promotion or valuable discount, but keep them to a minimum and be sure to create an enticing and clever call-to-action.


Hashtags - Want your conversations to get picked-up more often? Start using relevant hashtags. Let's say you're sharing a blog post about small business marketing, you should add the most popular hashtags to show keywords such as; #smb, #smallbusiness, #startup, #marketing, #entrepreneur, etc. All it takes is a bit of Google searches to discover the most fruitful hashtags that will boost your social updates.


Entering the world of social media can be a massive and foreign online world if you're not a seasoned social media professional, but with these helpful tips and a bit of nourishment, you can build a strong social media presence for your business.
Snap Recordings hopes you have found this blog post useful. If you're looking to brand your business' voice with the instant credibility it deserves, please visit us at SnapRecordings.com for our professional voice recording services.
Do you have any additional social media tips for small business and start-ups? Please share them in a comment below!