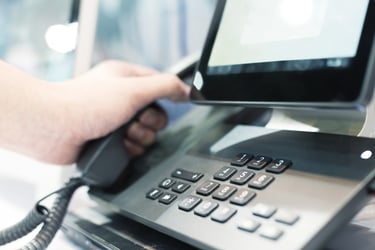 Technology has placed power in the hands of end users like never before. Users now have control to do work both at the office and remotely, as well as send and receive important information through any device at any time. Your employees are no longer chained to office desks.
This perfect storm of robust unified communications and phone system features has contributed to the vast growth of today's business communications and efficiency. It's time to keep up, or get left in the dust of your competition.
Make sure you have the best suite of features for your phone system – for yourself and your employees. Let's dive into them below:


FIND ME FOLLOW ME CALLING
Find me follow me (FMFM) calling is a great way to ensure an "always connected" sync exists with your employees. With this feature, you have the ability to use a virtual number that is routed automatically to your cell, home, or any other number you'd like. This is especially useful if you're not always in the office; it allows you to be reached no matter what your schedule.
You can imagine the effects on productivity it has.
A Cisco study showed that U.S. workers save about 81 minutes weekly by using their own devices. So giving them the option to work at other places than the office can help them be more productive. This is why FMFM calling can come in handy for when someone's got to step out for one reason or another.


SMS MESSAGING
Does your business have short message service (SMS) enabled? SMS is a text messaging service component that uses standardized communication protocols to enable the exchange of short text messages (usually about 160 characters).
This is a great way to automate messages based on customer interactions with your company. If someone signs up for deals and promotions, by providing their phone number, you can send them exclusive sales and content before anyone else via text message.


VOICEMAIL TRANSCRIPTION
Going along with our increased on-the-go lifestyles, you may not have time to listen to a voicemail, which is why the ability to have it transcribed can be pivotal. This is especially useful if you're in a crowded room or simply not in a place where you can listen and scramble to write down a number to call them back.
Having a phone system with capabilities to travel with you, and get you what you need in real-time can make all the difference in getting that extra task done.


YOUR PHONE SYSTEM, YOUR RULES
For businesses, you must be vigilant and stay on top of the latest phone system features if you want to be time and cost-effective. It's all about enabling your employees to help them make the best use of their communications in a way that best suits your culture and vision.
To learn more about getting the best out of your business phone system, feel free to subscribe to our blog!